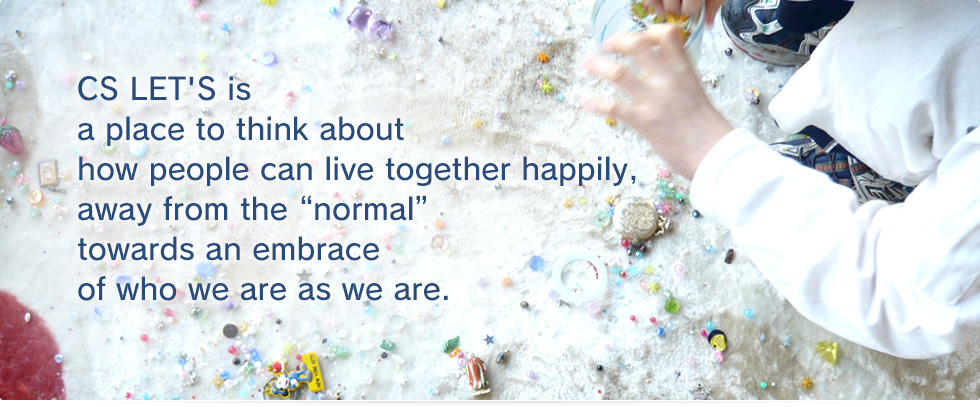 Our Guiding Principles
Creative Support LET'S is a Non-Profit Organization (NPO) that aims to overcome all discrimination based on "difference" (including disability, nationality, gender, and age) by undertaking a variety of projects and creative activities. We provide space to focus on the will to live and the power of self-expression that all human beings possess. We wish to create a society where all people can live together with empathy and meet across differences. Our goal is to help those with severe disabilities live culturally rich, socially-independent lives by mastering the skills necessary to express themselves, and to create the kind of society where they can participate as full members. We work to build a community where those with disabilities can live full and active lives.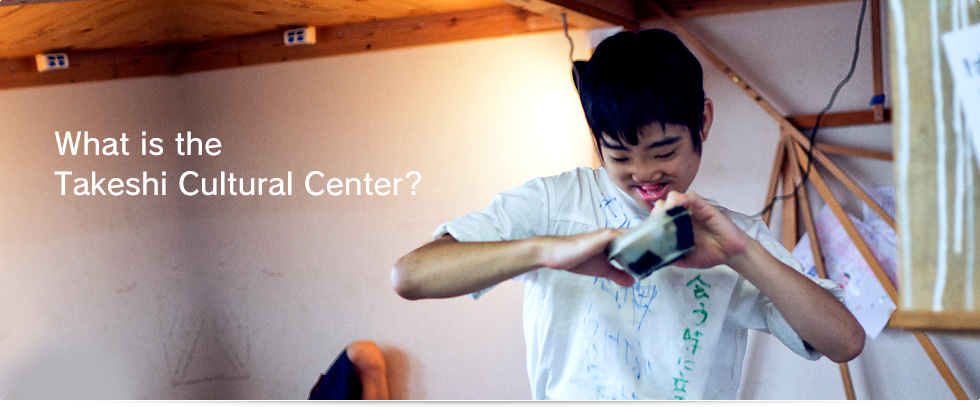 The Takeshi Cultural Center is a community culture project. The project began with our desire to establish the indomitable will of one severely disabled person (Kubota Takeshi) to do as they please as the foundation of cultural creation and to glorify their achievements as such.
The Center is a base where everyone can create and communicate their own individual culture. It is a place to unearth each individual's special qualities, skills, and powers of self-expression, and a place that heralds the new world that opens up from the intersections among such cultures.

The Takeshi Cultural Center, started by CS LET'S in 2008, is an attempt to change the way we see disability, a project that encourages people without disabilities to recognize themselves and live with pride as human beings (human rights).
As a part of this project, Ars Nova, a welfare service office for people with disabilities, was born in 2010. Ars Nova aims to be a facility that supports people with disabilities to live as they are. It is a place where users and staff explore together "what they want to do" and "how they want to live" regardless of their disabilities (even if they have severe disabilities). And we would like to create a "job" that only the person can do.
Services for Adults
Accepting people as they are:
building connections between people and society
Weaving, making up games, sticking packing tape on stuff, pulling a cart along while you walk… you name it: whatever you want to do, love to do, or are passionate about striving towards—even if that may be seen as "problematic behavior" by others—Ars Nova supports you. When others accept and affirm you as you are, that fosters connections between individuals and society. Doing so also aims to create living environments that eliminate institutionalization. We help people with disabilities search for a place or job in society based on their personalities.
Services for Children
Ars Nova carefully supports every child according to their individual needs
Ars Nova is bursting with play because that is the way children express themselves. Children and staff create new sign languages together. We pretend we're members of the Japanese government and suddenly announce that we're holding a sports day event. We play games of make-believe without even the foggiest understanding of the rules. Even if they may be seen as "problems" elsewhere, we treasure children's emotions and interests and view them as fantastic elements unique to each child. Staff keep a close eye on each child and we all learn from one other while having fun together. These methods enable us all to see a new side of each and every child that might previously have been invisible to others.


For a fun introduction to the staff and Cast of Stars at CS LET'S , check out this link!



Hyōgen miman is the way each and every one of us expresses ourselves. It is that which you hold dear; the things that nobody can just dismiss as worthless. We believe that it forms the very axis of creation of culture.
Hyōgen miman means appreciating the existence of another person in their entirety, as something that can't be categorized by anything as simple as "good" or "bad." As each person respects others and is respected themselves, new values are born and we all think more about how we live together in society. These are the hopes of the Hyōgen Miman Project.
The Hyōgen Miman Project Official Website
The Hyōgen Miman Project Thus Far:
| | |
| --- | --- |
| 2016 | Hyōgen miman Laboratory / Music Mix Festival Suta☆Tan!! / Financial Supporters Meeting / Time Travel 100h tour |
| 2017 | Music Mix Festival Suta☆Tan!! 2 / Financial Supporters Meeting / Time Travel 100h tour |
| 2018 | Hyōgen miman Cultural Festival / Making A Base for Activities / Financial Supporters Meeting / Time Travel 100h tour |
| 2019 | Hyōgen miman Cultural Festival / Music Mix Festival Suta☆Tan!! 3 / Financial Supporters Meeting / Time Travel 100h tour / LET'S Talk Series / and more... |

Promotional Video (2017)
CS LET'S has been running a monthly tourism project called "Time Travel 100 Hours Tour" since 2016. This tour allows visitors to stay at Ars Nova, a welfare facility for people with disabilities, for one night or more and experience the time that passes there. You can also stay at the share house and guesthouse on the 3rd floor of the Takeshi Cultural Center Renshaku-cho, where people with disabilities also live. Through such a special experience, we offer a trip for tourists to spend a misty, buzzy, and exciting time.
Why don't you share your bed and board with a person with a disability for once in your life? You might find new values.
Official Website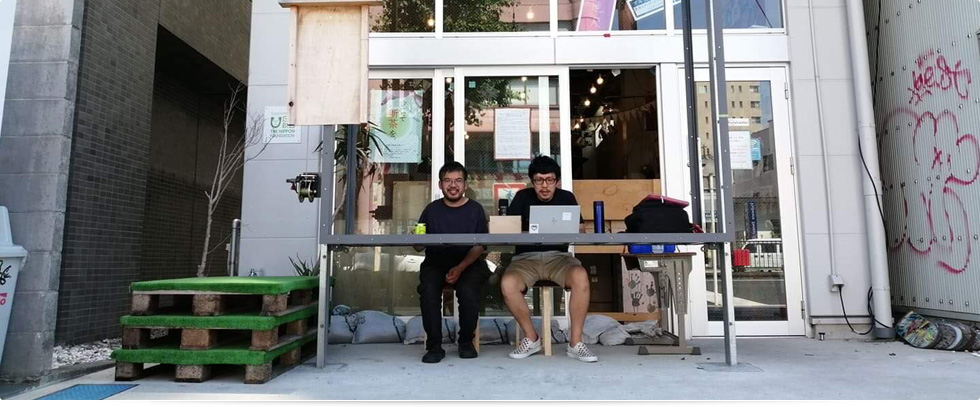 NPO Creative Support LET'S
Adress
Shizuoka-ken, Hamamatsu-shi, Naka-ku, Renjakuchō 314-30
053-451-1355